Join free online parenting classes. Connect with other parents. Get practical, positive, research-based parenting ideas. Help children grow.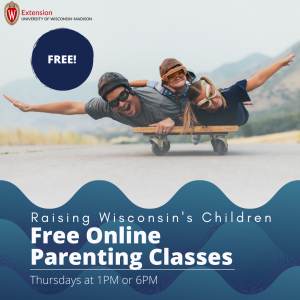 Click each class name to register below. When you register, you will receive an email with a link that gives you access to the class using Zoom. Check your junk mail if you don't receive this email.
Raising Wisconsin's Children online parenting classes are the 3rd Thursday at 1 PM or 6PM unless otherwise noted. Classes are for any parent or caregiver.
September 21, 2023: The Parents' Guide to the Teenage Brain
Understand how the teenage brain impacts behavior and relationships. Ideal for parents of 13-18 year olds but all are welcome. Register for 1PM or Register for 6PM
October 19, 2023: Raising Kind Kids
Kindness helps people make friends and feel connected. Learn how you can help your child learn to be kind. Ideal for parents of 5-12 year olds but all are welcome. Register for 1PM or Register for 6PM
November 16, 2023: Families + Screens
Decrease stress around screens and technology in your family. Learn how to identify your family values around screens and make a family media plan that works for you. Ideal for parents of 5-12 year olds but all are welcome. Register for 1PM or Register for 6PM
December 21, 2023: Strengthen Family Bonds Through Traditions
Explore how traditions can help your family connect and stay together. Ideal for parents of any age child. Register for 1PM or Register for 6PM