Starred* resources are available in a JITP Google Drive folder for you to download and adapt for local use.
What is Just in Time Parenting?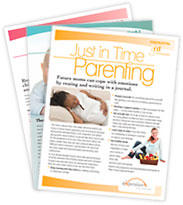 Just in Time Parenting (JITP) is a free parenting newsletter that is delivered by email and specific to a child's age and needs. JITP is the result of ongoing partnership between several land-grant universities in the U.S. and is managed by a national board on which Wisconsin has representation. The newsletters are designed so that information that's relevant to families is automatically delivered to them just in time!
Each issue includes:
Easy to use guides on how a child is developing
Tips on raising a healthy, happy child
Tools for solving common parenting problems
Strategies for coping with the challenges of raising children
Why should parents choose Just in Time Parenting?
Timely automatic delivery directly to their inbox
Available in English and Spanish
Access to full-color PDFs for printing and sharing
Links to podcasts, videos, and other resources
Commercial free — no toy or product ads
Based on research and written by experts who are parents themselves!
How can I use JITP in my county/region?
Encourage parents and caregivers to sign up for the free, electronic, delivery of JITP at https://jitp.info/. Once on the page, parents need to click "Subscribe" or "subscribe now" to enter their email information. After they are subscribed, parents will be able to control their own subscription and unsubscribe as desired.
Many colleagues add a paper copy of the first month of JITP and a sign-up form to the new baby welcome folders provided by local hospitals. Fond du Lac County uses a one-page paper sign-up*, the form is collected by a contact at the hospital, and Extension county support staff subscribe parents using the information on the form. Ask around for samples of what other colleagues are using.
You are welcome to print the PDF versions of these newsletters to send print copies in your county. If you would like to add your partner information to the top of the newsletters for print distribution. Copies of the 3 prenatal newsletters* and first 6 months of newsletters* are available in the JITP Google Drive for you to download and use.
Evaluation
As of January 2020, JITP evaluation data will be collected nationally but include county-level data. State and county results will be available from this national data set in November or December each year. JITP automatically invites parents who are electronically subscribed to complete a survey near their child's birthday each year (12 months, 24 months, 36 months, 48 months, and 60 months).
If you deliver paper-only copies to certain audiences, you can print the JITP Parent Evaluation — PAPER version, invite parents to complete the evaluation and return it to you, and have your office staff hand-enter their feedback at this link: https://auburn.qualtrics.com/jfe/form/SV_cMhSOlyr8dSRYmG.
(NOTE: Prior to 2020, a Wisconsin-specific JITP evaluation tool was available to measure parent demographics, knowledge, attitudes, and behavior after families receive JITP for their child's first 12 months. Since the national JITP survey now includes a question about state and county, we no longer need to collect a separate WI survey. Many thanks to Shelley Tidemann and Kelly Lamb from Fond du Lac County for their help in developing and piloting this questionnaire and distribution process.)
Reports
You can download and the print the 2019 Impact Report*.
Questions
Contact Anne Clarkson (anne.clarkson@wisc.edu) with any questions.