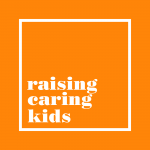 Thanks for your interest in Raising Caring Kids! Raising Caring Kids was created in 2018 through a partnership between University of Wisconsin – Extension colleagues and the Wisconsin Department of Public Instruction.
Raising Caring Kids uses articles and videos to teach parents of 1st to 5th graders how to build their children's social and emotional learning skills. Schools can send Raising Caring Kids to families via email or social media. The articles briefly describe the research behind these skills, provide ideas for practicing social and emotional skills at home, and link to additional family-friendly resources. Each video explores one social and emotional skill and shows how a parent might teach a child that skill. You can view the program content on Raising Caring Kids' webpage.
Implementation
Follow these 4 steps to implement Raising Caring Kids in your community and receive access to local evaluation data!
Recruit area elementary schools to participate in the program. Encourage them to register online using the online sign-up form listed in the links below. Once your school contact signs up online, they will be registered to participate and will receive an email with an attached document describing next steps.
Ask school contacts when they anticipate starting to deliver Raising Caring Kids.
Remind school contacts to send the first email to parents on the date they identified as their start date. If you (and they) want, you can email weekly reminders to your school contact.
Monitor that emails are being sent by schools on a weekly basis. Ask to have your email address added to the school's distribution list so you can check that the email is being sent weekly. You may also need to call or email your key contact with a reminder.
Collecting Feedback
Evaluation data is collected in several ways for Raising Caring Kids.
Participating Schools or Organizations must submit their names, school name and location, anticipated distribution numbers, and anticipated distribution date. We will condense this information in our statewide report and be able to share number of interested partners by Wisconsin county.
Google Analytics is used to measure frequency of visits, the origin of visitors, and click through analytics on links.
Online Participant Questionnaire is sent via email to all participating parents toward the end of the program. Results are collected on a state level.
We will compile this information into yearly, statewide reports. To learn more about Raising Caring Kids, read impact reports from:
Questions?
Contact Anne Clarkson at anne.clarkson@wisc.edu or 608-206-6317.